Architecture
Where puristic design meets a sensory experience.
The cabins are designed to open up new perspectives through moments of contrast. They are stylish but spacious. Linear, yet cosy. Light and airy while also offering privacy. With discreet furniture and modern technology. All under one roof with a diagonal 23.5 degree angle – the unmistakable trademark of the Neugrad cabins.
13 cabins seamlessly integrated into the region
High-quality cabins made from ecological materials, carefully arranged on an unspoiled, car-free property. Check in to an unforgettable holiday experience in harmony with nature.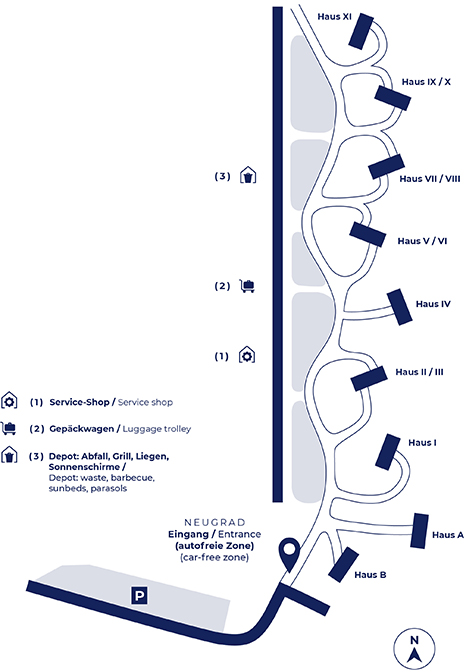 Sustainability
Live in harmony with nature.
Ecological building materials, a low-emission heating system, efficient insulation, no harmful paints or varnishes, and only natural surfaces, mostly oil-treated wood and concrete: The sustainable construction of the cabins and the unspoiled nature of the car-free property help to accentuate the authentic experience in Neugrad. Rainwater is returned to the natural water cycle and there is almost no surface sealing. Anti-reflective glass façades store thermal energy and reduce the incidence of bird strikes, while artificial roosts have been installed for the bats that are so important to the environment. The biggest highlight of all: Subtle exterior lighting means there is minimal light pollution, making the views of the night sky over the Eifel Dark Sky Park even more impressive.
Eifel National Park
In the "Wild West" of North Rhine-Westphalia.
Neugrad enjoys a unique location: Near to Germany's western border, in close proximity to the Netherlands, Belgium and Luxembourg, and immediately adjacent to the 110 square kilometres of the Eifel National Park. Applying the motto "Let nature be nature", national park status means that flora and fauna are allowed to develop without human intervention. As a result, thousands of endangered plant and animal species are beginning to spread again. The extensive forests, river valleys, plateaus and wooded pastures are home to wildlife such as black storks, eagle owls, tawny owls, ravens and beavers. The National Park is bedecked by yellow broom blossom in the early summer, while the southern section is even home to some species of orchid. While hiking, you will encounter established ash, chestnut and wild cherry trees. In short, Neugrad is the perfect destination for lovers of woods, water and wilderness.
To Eifel National Park
History
Revitalising an old location.
A holiday destination at a conspicuous location with an inglorious history? Can it really be done? We asked ourselves the same question. Our response: Not only can it be done, but we want to be the ones to make it happen.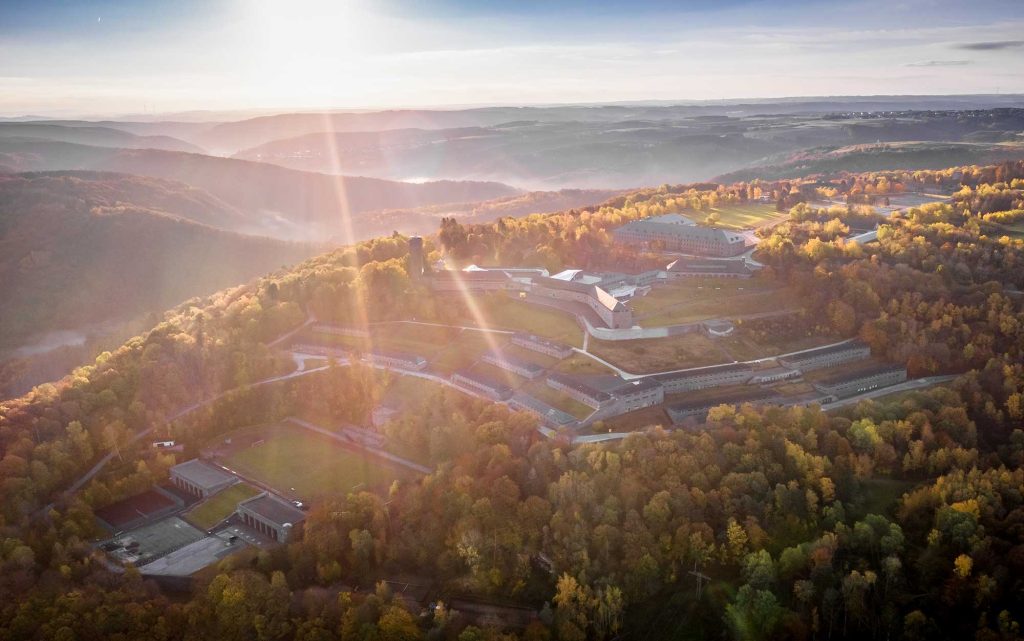 Originally a fortress serving as a training facility for future Nazi leaders and later used by Belgium and the UN as a military training area for a good 70 years, Neugrad lies at the edge of a site with a turbulent past. This history makes the present-day site all the more contrasting and refreshing. Around 20 years ago, the troops were withdrawn and the area was designated as a national park. Ever since, the territory has been gradually reclaimed by the wilderness of nature, while the buildings are now used by a wide range of charitable and other organisations. New ideas and initiatives are sprouting up all over the place. Take a look for yourself and be surprised and moved by everything that is going on.
Although Neugrad itself is outside the site and away from all the action, we are proud to be playing our part in the revitalisation of the location along with our guests.
To History
Directions and site map
Far away and yet so near.
Neugrad can be reached by car in less than an hour from Aachen, Cologne and Bonn. Speaking of cars, Neugrad is located in the heart of the countryside, where life moves at a slower pace. This also means public transportation is less frequent.
Directions by car Because of its remote location, driving is the best way to reach Neugrad, especially if you want to explore the surrounding area during your stay. Neugrad itself is car-free, but parking spaces are available at the edge of the grounds and an electric charging station is 200 metres away.
Directions without car Take the train to Kall station (Cologne-Trier Regional Express line). The National Park shuttle bus SB82 will take you to the Neugrad site >> Timetables
Address Neugrad, Vogelsang 67, 53937 Schleiden-Morsbach, Germany. In the heart of the Eifel National Park.
The people behind neugrad
At home in the Eifel
Neugrad in the Eifel region is more than just a resort. It is intended to provide the space and the calm you need to find new ideas, new perspectives and new inspiration. After all, that is how Neugrad itself originated: almost out of the blue.
Frederik Eichen
A true nature boy who knows the Eifel region like the back of his hand, Frederik is a mover and shaker who values real and immediate experiences and loves to share them with others. Together with his university friend Frank, he quickly realised that Neugrad could be the ideal springboard for enabling people to enjoy the beauty of the region.
Frank Zweigner
Real estate, architecture and design – this is Frank's home turf. As a visionary and an enthusiast, he loves thinking about topics like lifestyles and ways of shaping living space. This includes Neugrad, whose philosophy was substantially defined by Frank's ideas. This means his presence can always be felt in Neugrad even when he is not there in person.